Ok. This topic will attempt to explain how to add pictures to your signature, your display picture, or any posts. (either you will understand, or you will only be more confused.)
0) Whenever you try to add pictures it is a lot easier if you know your way around the internet, if not, that why im here .
1st) begin by going to any picture online storing site. Ex: Photobucket.com.
-Create an account, do not worry, it is free!
-Upload any pictures you want to put on forums. Really easy upload. 3 clicks!
2nd) Once you have all your pictures that you want to add to forums you just need to copy the link they give you: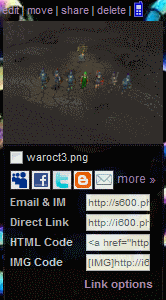 As you can see in the picture, there are four different links provided. The one that you want to put on forums is the IMG code one, on the bottom.
-If you want to put in the picture: IMG code
-If you just want web address: Direct Link (2nd from top)
Rules: If posting pics in the shoutbox, it is generally acceptable to only post picture links, not pictures, Cause they can take up the entire Shout box
3rd) When ready to paste you code, you can just paste the picture IMG code were you want your picture to be. Very much like a word document (but instead of pics, you got text for pics. Preview button is ideal for these situations of uncertainty)
If you have any more questions, just add them to this topic or pm me, Hope this helps!